Short description
The windmill from the village of Bolshaya Shalga (Kargopolsky district, Arhangelsk region) was built around the 19th century, was transported to the museum of wooden architecture "Malye Korely" (Arhangelsk region) in 1972. Postbased mill with six sails and one pair of millstones. Log construction. Unique details:
detachable stone nut
. Was used as a flour mill (flour), a crushing mill (grain).
| | |
| --- | --- |
| Condition | The windmill is restored |
| Status | Museum exhibit |
| Mechanism | Conserved, not restored |
The following historical parts of the mechanism have been preserved:
Windshaft, Brake wheel, Tailpole.

Millstone mechanism:
Stone nut, Spindle, Hopper, Vat.

Crushing system mechanism:
Mealspout, Mealspout, Mealspout.

Additional description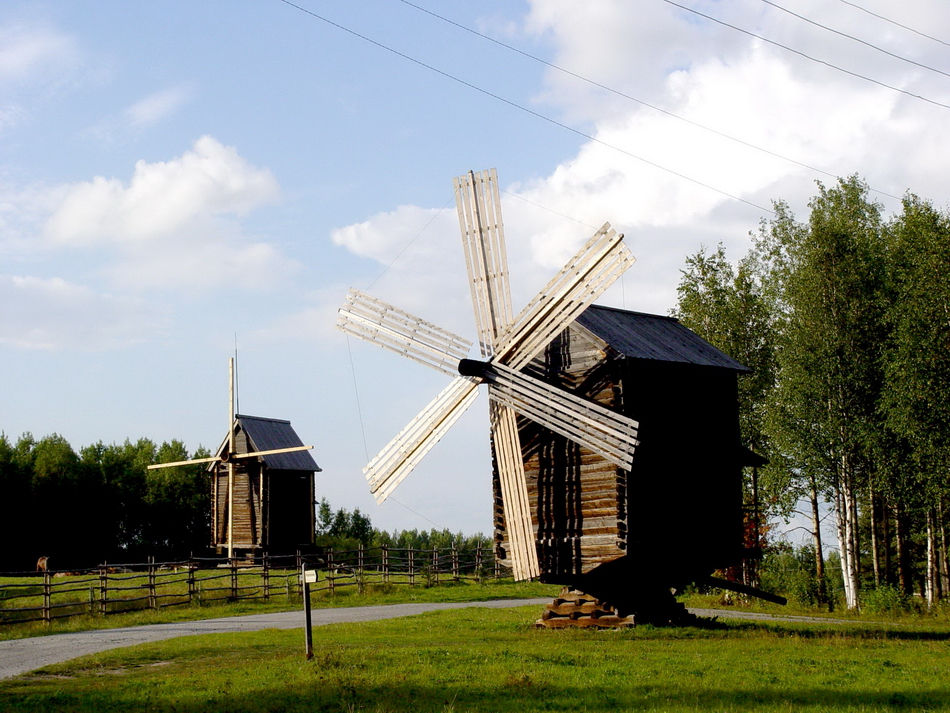 The mill from Bolshaya Shalga has interesting details. Firstly, it is one of the four post-based mills that have both a pair of millstones and a crushing system. Secondly, it is one of the few mills where trestle is a low ryazha (crib). Thirdly, this is the only noninverted post-based mill with a displaced windshaft. Instead, there is a crushing system in the center of the mill. Finally, it is one of the two mills, where there is a mechanism for disconnecting the stone nut from the brake wheel.
Out of seven rams there has been only one historical ram preserved. It has a few hoppers, a crushing bank, though, hardly an original one. The sails are not original either. The mill needs functional restoration.