Short description
The windmill from the village of Burilovka (Talovsky district, Voronezh region) was transported to the interactive museum "Khutor Lomy" (Voronezh region) in 2004. The time of construction is unknown. Smock mill with four sails and two pairs of millstones. Log construction. Was used as a flour mill (flour).
| | |
| --- | --- |
| Condition | The windmill is conserved |
| Status | Museum exhibit |
| Mechanism | Conserved, not restored |
The following historical parts of the mechanism have been preserved:
Windshaft, Brake wheel, Brake, Upright shaft, Wallower.

Additional description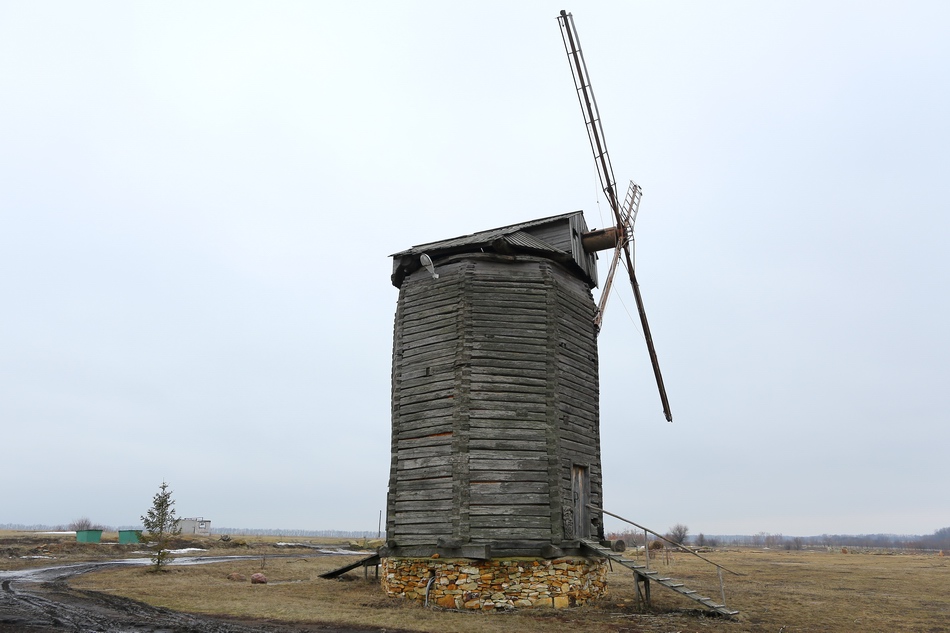 The mill in Lomy Khutor (farmstead) is a log-construction smock with two pairs of millstones. It is one of Voronezh region mills in good condition. The khutor (farmstead) is gradually being built so, new active historical exhibits are being opened. Sooner or later, the mill will be functionally restored.
The top of the mill has been preserved quite well. In the pictures you can see a small wheel - a sheave. The same wheel can be seen in the mill in
Popasnoe
. The purpose of these wheels is not obvious, but it is possible that they put the rope, which moves the beam, through them, i.e. the brake unit, which in turn pressed the brake to the brake wheel.
Downstairs there is nothing: no gears or mill posts. There is nothing there but they can be brought from other mills in Voronezh region that were slightly less fortunate. On the ground near the mill there are the remains of original sails. The dummy sails are iron. The tailpole was chopped off.