Short description
The windmill from the village of Grishkino (Belozersky district, Vologda region) is located on a historical site. The time of construction is unknown. Postbased mill with six sails and one pair of millstones. Log construction. Was used as a flour mill (flour), a crushing mill (grain).
| | |
| --- | --- |
| Condition | The windmill is in ruins and is collapsing |
| Status | In noone's possession, not used |
| Mechanism | Not restored, is going to ruin |
Information about the mill was checked on 12.06.2016.
The following historical parts of the mechanism have been preserved:
Windshaft, Brake wheel.

Additional description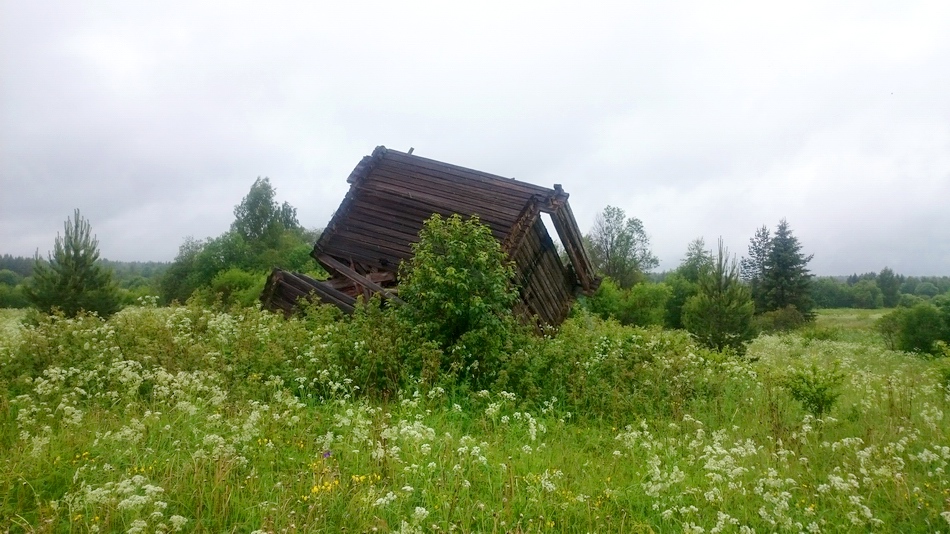 A detailed but old report about the mill can be found
here
. We saw the mill in June 2016. The barn was off the axis and was lying on its side. Grishkino is quite hard to reach, so to get there you should take semi-private roads that are normally used for timber carriers, and then go for 10 kilometers through the forest kind-of road. We went there when it was raining heavily, but the road was ok for the full drive cars. The mill stands on the hill in front of the village (perhaps the village has now become only summer residence for people).
The mill is in ruins. What is sad is that according to some signs (a large barn, holes on the windshaft) the mill could have had not only the millstones, but also the crushing system, which makes it one of five combined post-based mills (millstones plus a crushing system) on a historical site. The mill is a regular/noninverted post-based mill. There are altogether 12 historical mills of this type, including two in ruins – this one and the one in
Kalmykia
. The tricky thing is that in Semyonkovo Museum they are making an absolutely new mill which is completely identical to the one that is falling into ruin, i.e. "a post-based mill, and a crushing mill on the frame".
The brake wheel is a prominent historical element. We would like to take it from there and put under some roof to preserve. In addition, after getting rid of the grass and wild raspberry bushes around the mill, you will probably find the windshaft and the rams of the crushing system.
We would like to note that the state of the mill frame is very good and dry (it is covered by the barn). The axial post is also in good condition.