Short description
The windmill from the village of Koksharodo (Kuzhenersky district, Republic of Mari-El) is located on a historical site. The time of construction is unknown. Smock mill with four sails and two pairs of millstones. Sheathed Log construction. Was used as a flour mill (flour).
| | |
| --- | --- |
| Condition | The windmill is falling into ruin and may disappear |
| Status | In noone's possession, not used |
| Mechanism | State unknown |
Information about the mill was checked on 07.03.2016.
Additional description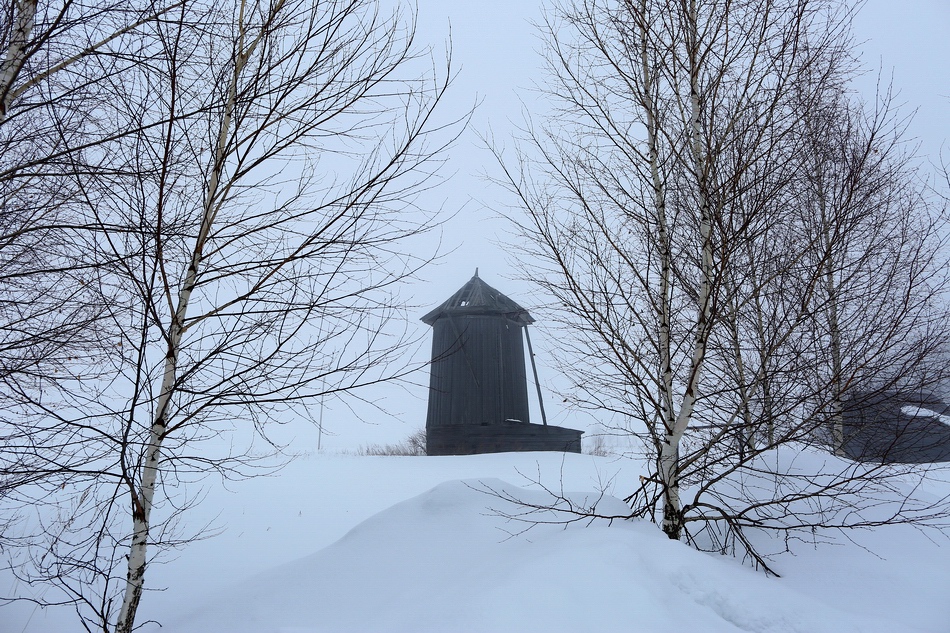 In March 2016, there was still snow on the ground. A lot of snow. There was so much snow that we did not dare to get to the mill. And since there are no reports about this mill either, we will have to settle for photos from afar.
According to the locals, that speak an interesting mixture of Russian and Mari, the mill still has its mechanism. Actually, whatever the condition of the mill is, it might make an excellent tourist ensemble with the neighboring mill from the village of
Chendemerovo
, which has been preserved in a remarkable state.
The mill is behind the football field in the middle of the village. As it belongs to the Volga region smocks, the same parameters for the mill were used. Neither the date of the construction nor the owner is known to us. It is said
here
that "in 1922 there was a windmill in the village belonging to D.S. Kapustin and E.S. Kapustin." Whether this is that very mill or not is unknown. The holes in the roof of the mill are visible even to the naked eye, but let's hope it will see its restoration.