Short description
The windmill from the village of Kozhposelok (Onezhsky district, Arhangelsk region) was built in 1902, was transported to the museum of wooden architecture "Malye Korely" (Arhangelsk region) in 1972. Smock mill with four sails and two pairs of millstones. Sheathed Frame. Was used as a flour mill (flour), a crushing mill (grain).
| | |
| --- | --- |
| Condition | The windmill is restored |
| Status | Museum exhibit |
| Mechanism | Conserved, not restored |
The following historical parts of the mechanism have been preserved:
Windshaft, Brake wheel, Upright shaft, Wallower, Camwheel, Great spur wheel, Horisontal shaft, Camwheel of the horizontal shaft.

Millstone mechanism:
Stone nut, Spindle.

Crushing system mechanism:
Mealspout, Mealspout.

Additional description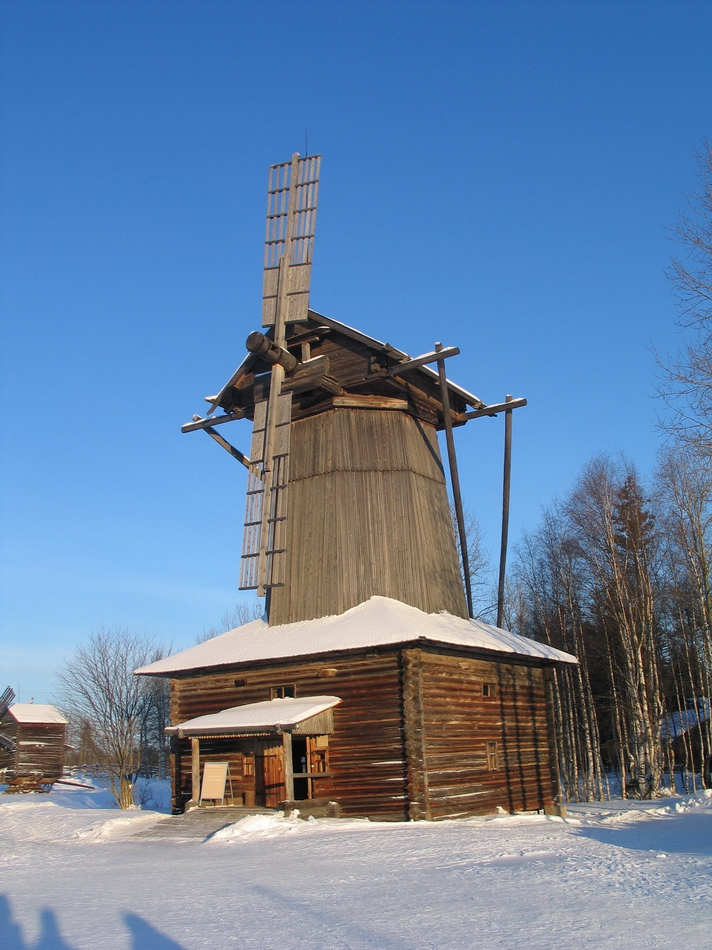 Though the mill is open to public, almost the whole mechanism is not original and, upon closer inspection, cannot work. The mill's cap is not able make a full turn, the sails are not long enough to turn the shaft, the hopper can not pour the grain, the grain can not be picked up from the vat, the second pair of millstones is lost, the rams and cams of the horizontal shaft would wear off quickly, the stonecrane would not be able to raise them.
However, despite all this, it is definitely worth visiting the mill, since it really shows the mill gears. Besides, it is the only mill with a combination of two pairs of millstones and a crushing system.