Short description
The windmill from the village of Maloe Boldino (Bolsheboldinsky district, Nizhny Novgorod Region) was built around the 19th century, is located on a historical site. Smock mill with four sails and two pairs of millstones. Sheathed Frame. Was used as a flour mill (flour).
| | |
| --- | --- |
| Condition | The windmill is falling into ruin and may disappear |
| Status | In noone's possession, not used |
| Mechanism | Not restored, is going to ruin |
Information about the mill was checked on 26.12.2018.
The following historical parts of the mechanism have been preserved:
Windshaft, Brake wheel, Stonecrane, Upright shaft, Wallower.

Millstone mechanism:
Spindle, Hopper, Shoe, Vat, Mealspout.

Additional description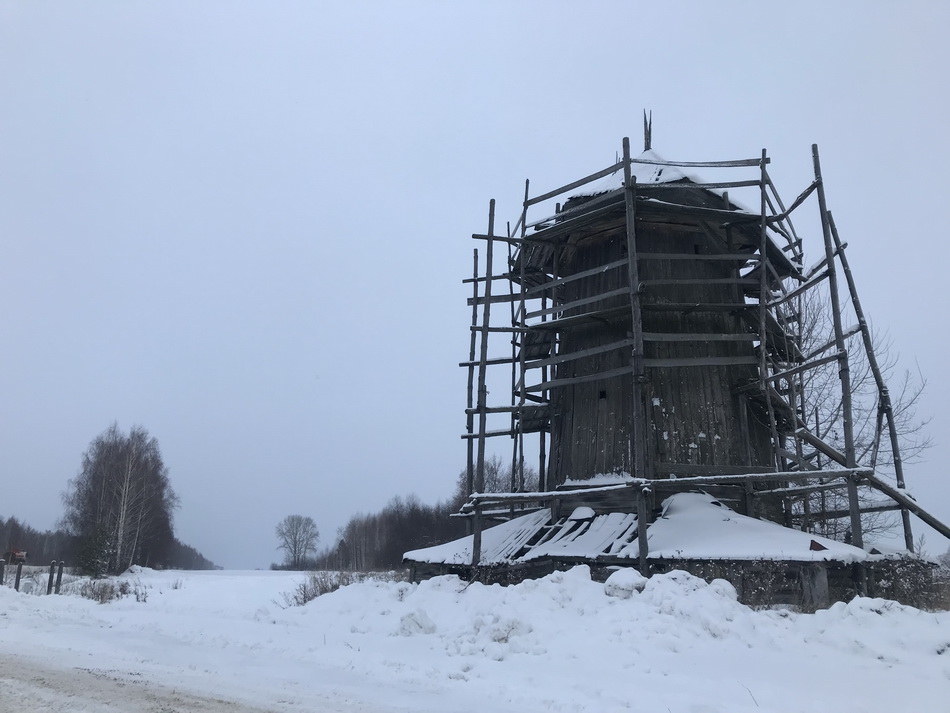 Unique preservation. On the hopper above one of the millstones it says "flour dust is dangerous." This pair of millstones is fully complete. A smooth wheel for the belt drive is preserved under those millstones. Apparently it was working quite recently with a diesel engine. Everything has been preserved, down to the fabric and bags (there is straw in the bag). There are interesting rotating beams on hoppers, apparently acting as dispensers or something like that. A pulley for winding a rope between the pairs of millstones - the purpose is not clear.
The mill in Maloe Boldino commemorates a surprising attitude to monuments. It is near the Pushkin Museum, near Nizhny Novgorod and Arzamas. Simply go and restore! But no, it's not that simple. The restoration has started, but it has been going on for decades. Read, for example,
here
. By the way, a new dummy mill without any gear inside has been recently installed in the Pushkinsky Gori (Pskov region). Apparently, the dummy mill should add to the landscape, but somehow this one doesn't.
People! Think about it! The rarest preserved complete monument! Right close to the Boldino Autumn!
The mill is a southeastern smock (one of eight preserved): a frame with a quadrangular barn, two pairs of millstones. A small summary of what is inside the mill can be seen
here
.