Short description
The windmill from the village of Moshok (Sudogodsky district, Vladimir region) was built around the end of the 18th century, was transported to the museum of wooden architecture "Suzdal" (Vladimir region) in 1970. Smock mill with four sails and two pairs of millstones. Log construction. Was used as a flour mill (flour).
| | |
| --- | --- |
| Condition | The windmill is restored |
| Status | Museum exhibit |
| Mechanism | State unknown |
Additional description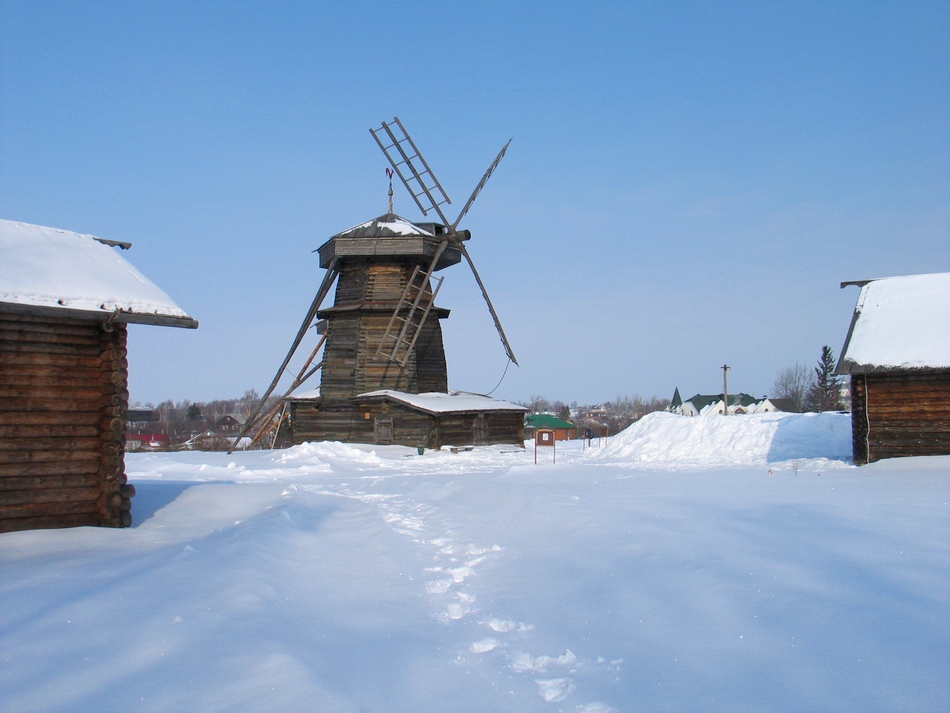 We would like to point out that Suzdal Museum is one of a few places where you can see the landscape with two mills at the same time. The second mill is
here
.
In summer, you can take a look inside of the windmill - there is a mill work exposition inside. It's a pity that it's only open in summer, and it's a pity that you cannot go inside the mill. The distinctive feature of this mill is two clearly visible floors, but as for the rest, it is a typical Volga region mill, i.e. a bar-covered smock on a barn with two pairs of millstones. The mill has a small exhibition which tells about the mill business.
In addition, it should be noted that many sites keep saying that Suzdal mills are the only remaining mills in Vladimir region. This is not true. At least there is one more carcass of the mill in the village of
Voinovo
. And not so long time ago, there was a mill with the whole mechanism in the village of
Kryukovo
.