Short description
The windmill from the village of Polnoe Konobeevo (Shatsk district, Ryazan region) was built in 1903, is located on a historical site. Smock mill with four sails and two pairs of millstones. Sheathed Frame. Was used as a flour mill (flour).
| | |
| --- | --- |
| Condition | The windmill is conserved |
| Status | In a museum, but not used |
| Mechanism | Conserved, not restored |
The following historical parts of the mechanism have been preserved:
Sails, Windshaft, Brake wheel, Brake, Stonecrane, Tailpole, Upright shaft, Wallower, Great spur wheel.

Millstone mechanism:
Stone nut, Spindle, Hopper.

Additional description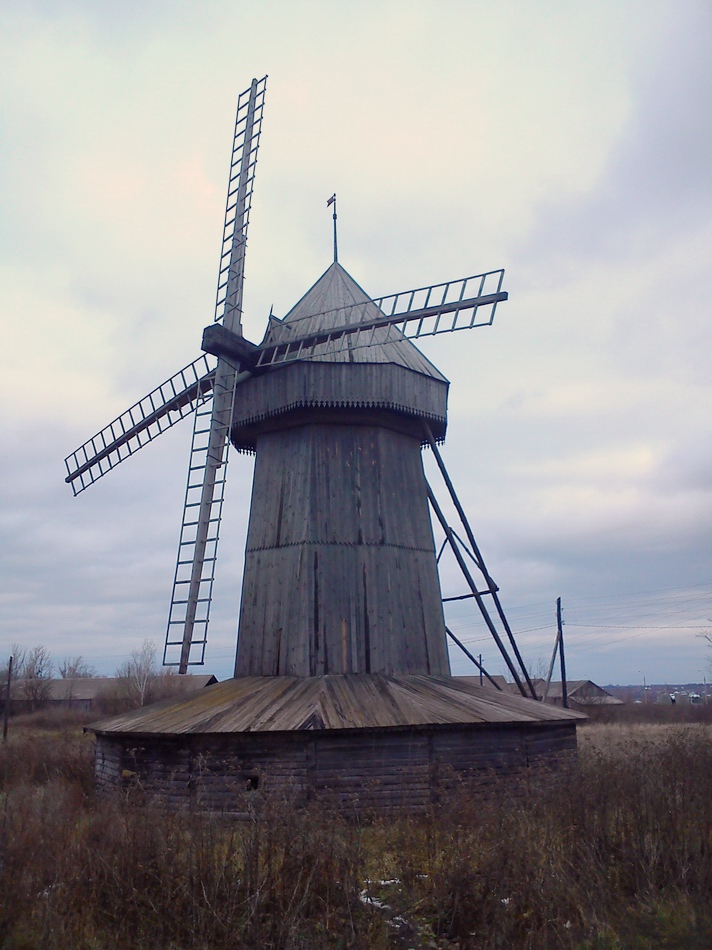 The mill in Polnoe Konobeevo is the only one of the eight preserved southeastern smocks. It's a frame mill, and its barn completely surrounds the main structure, like a "skirt". It is under supervision, and it doesn't look like it's going to fall in the nearest future. The mechanism of the mill is pretty well preserved. We would like to note the following things:
- A huge wallower (really big)
- Windshaft inclination
- One of the stonenuts was replaced by a sheave, which rotates with the help of the electric motor. By the way, according to some sources, the mill used electricity to operate until 1985. This is a kind of record, at least explicitly mentioned.
- A part of the brake has been preserved
- Vertical/upright shaft is sectional in width
- As in most southeastern smocks there is an ornament on the bottom of the cap
In 2003, just before the celebration of the 450th anniversary of Shatsk, the mill was repaired. This was done by
Saransk
craftsmen. However, this mill was not functionally restored but was conserved with most of the mechanism.
It's strange, but there are many reviews about the mill saying that it is either the only one in Russia, or the only one from Ryazan to
Tarkhany
. Apparently, this happens because the the mill is near the highway where everyone can see it. The truth is that the mill is the only one in Ryazan region, but its closest "relative", both in terms of architecture and distance, is the
mill
in Lyovino, Morshansk district, Tambov region. At least if it's still there.