Short description
The windmill from the village of Srednyaya Medlesha (Shenkursky district, Arhangelsk region) was built around the end of the 19th century, was transported to the museum of wooden architecture "Malye Korely" (Arhangelsk region) in 1972. Postbased mill with six sails and one pair of millstones. Sheathed Frame. Unique details:
conical stone nut
. Was used as a flour mill (flour), a crushing mill (grain).
| | |
| --- | --- |
| Condition | The windmill is restored |
| Status | Museum exhibit |
| Mechanism | Conserved, not restored |
The following historical parts of the mechanism have been preserved:
Brake wheel, Brake, Tailpole.

Millstone mechanism:
Stone nut, Spindle.

Crushing system mechanism:
Mealspout, Mealspout.

Additional description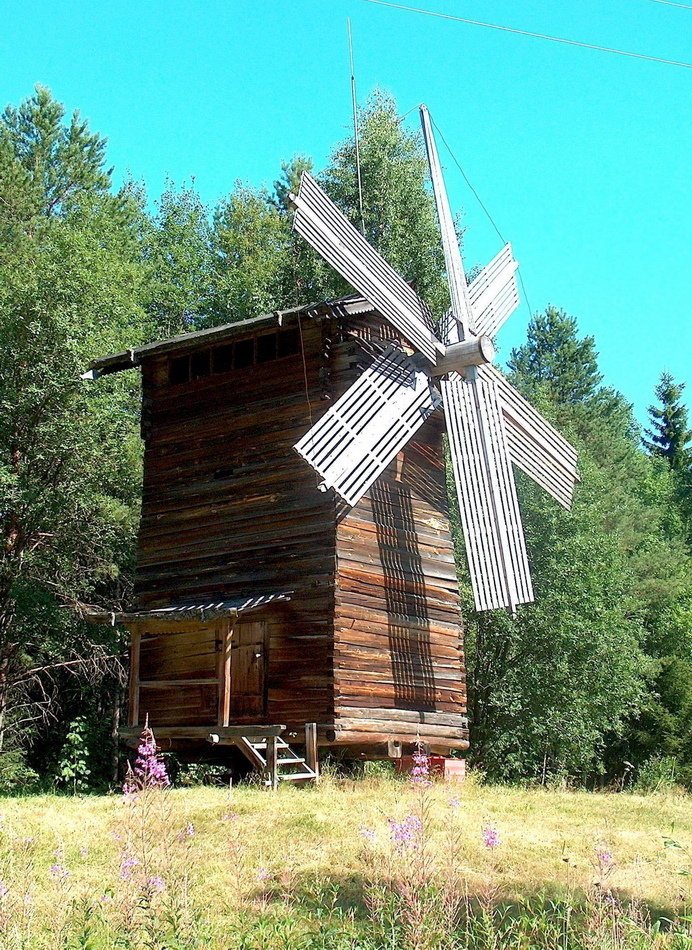 For the crushing mill to work more efficiently, the mill barn should be high. To reduce its weight, the unique design is applied: the middle part of the barn is a frame, whereas the lower and upper ones are made of logs.
A small inclination of the windshaft makes it necessary to put a conical stone nut. The missing tailpole must look like a triangle in the plan. It's one of the four post-based mills, that have both a pair of millstones and a crushing system. There are original rams with original shins preserved. But the windshaft is new and smooth - there are no shins on it.
Also it's necessary to note that the brake wheel is fixed on the windshaft as it is usually done in the smocks, i.e. four chords around the shaft make up a square, which is clamped on it. In most post-based mills, the brake wheel is attached to two diameters which are threaded into the slot of the windshaft.