Short description
Anisim's windmill from the village of Chendemerovo (Sernursky district, Republic of Mari El) was built around the 19th century, is located on a historical site. Smock mill with four sails and two pairs of millstones. Sheathed Log construction. Was used as a flour mill (flour).
| | |
| --- | --- |
| Condition | The windmill is falling into ruin and may disappear |
| Status | In noone's possession, not used |
| Mechanism | Not restored, is going to ruin |
Information about the mill was checked on 07.03.2016.
The following historical parts of the mechanism have been preserved:
Windshaft, Brake wheel, Tailpole.

Millstone mechanism:
Hopper, Shoe, Vat.

Additional description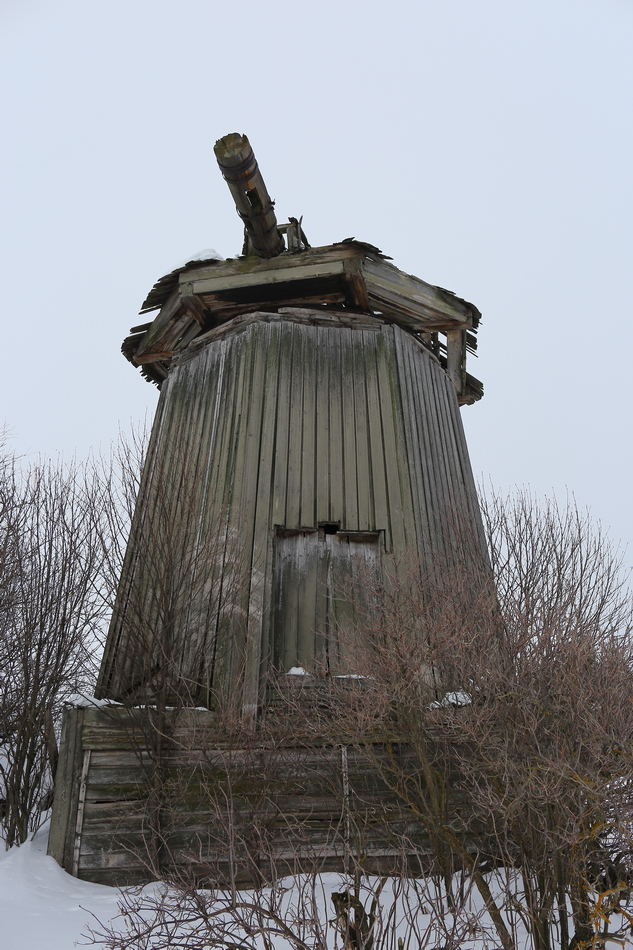 The mill is located behind the village of Chendemerovo, between this village and Orekhovo. It is said
here
that "to the north of Orekhovo there is a windmill built in the XIXth century. It is considered an architectural monument that belonged to Anisim and Tokpylat, who later lost their possessions to the local authorities. In 1948, the mill was relocated." One more description is
here
.
As for the type, it is Volga region smock mill, and it is really very well preserved. This mill and the neighboring one in
Koksharodo
could have made a tourist ensemble. The mill has a platform, floors, some roof. Two important parts are missing. They is a vertical shaft and a ladder to the second floor (upper ladders are available). The millstones are preserved, though not in the place. Also, the preserved parts are wooden elements of the millstone system, i.e. hopper, vat, mealspout and so on. The only missing thing is the stonecrane. The posts of the ground floor have carved elements of the mill decor, apparently spread in this region. The same carvings can be seen, for example, in
Shorkino
.