Short description
Botev's windmill from the village of Kesloma (Leshukonsky district, Arkhangelsk region) is located on a historical site. The time of construction is unknown. Inverted postbased mill with four sails and one pair of millstones. Log construction. Was used as a flour mill (flour).
| | |
| --- | --- |
| Condition | The windmill is falling into ruin and may disappear |
| Status | In noone's possession, not used |
| Mechanism | Not restored, is going to ruin |
The following historical parts of the mechanism have been preserved:
Windshaft, Brake wheel, Brake, Tailpole.

Millstone mechanism:
Stone nut, Spindle.

Additional description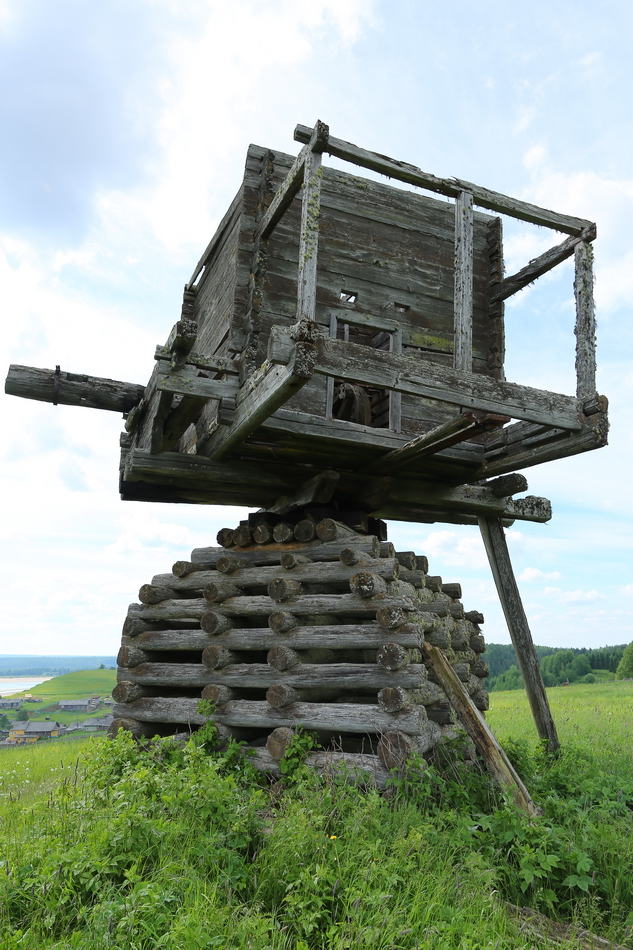 The mill of Kesloma is one of the five inverted post-based mills of the Mezen river. Unfortunately, the condition of this mill is the worst of all the other river windmills: there is no roof and no second floor. The remaining board of the second floor made it possible to conclude that the mill was much lower than its "sisters", and the miller probably had to bend low when walking.
However, the mechanism has been quite fully preserved: a windshaft, a brake wheel, a stone nut with a spindle (it fell down but it is stored in the village). The system of brakes is unique: behind the brake wheel there is another vertical beam with two holes at the top and at the bottom. It can be assumed that the brake gripped the brake wheel from above and below.
The landscape is magnificent. We think that the restoration or at least the conservation of Kesloma windmill is the main task now as the windmill can be lost any moment soon.