Short description
Ognev's windmill from the village of Lapkino (Gornomarisky district, Republic of Mari El) was built in 1901, was transported to the museum of wooden architecture "Kozmodemyansk" (Republic of Mari El) in 1983. Smock mill with four sails and two pairs of millstones. Sheathed Log construction. Was used as a flour mill (flour).
| | |
| --- | --- |
| Condition | The windmill is restored |
| Status | Museum exhibit |
| Mechanism | State unknown |
Additional description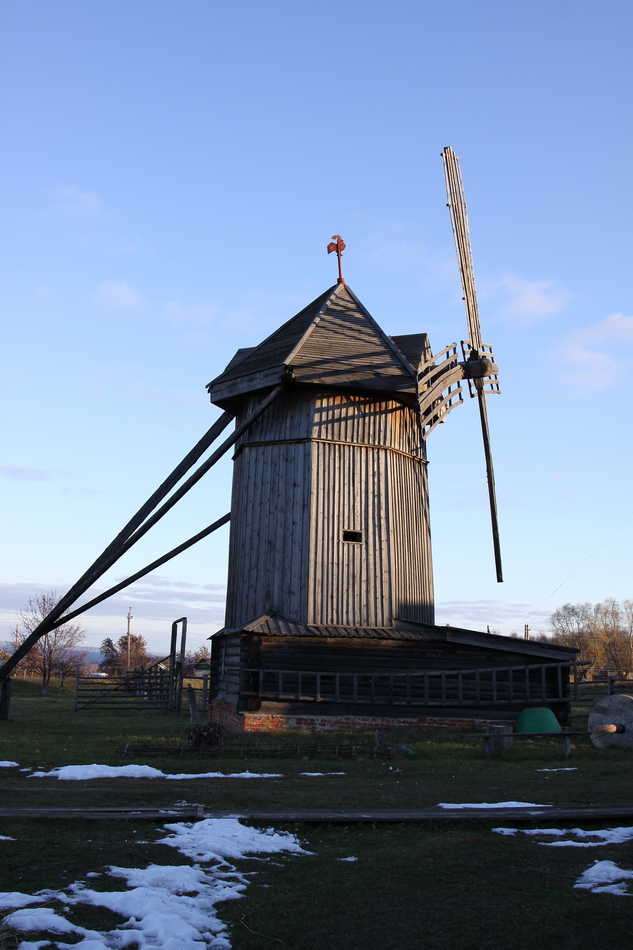 The mill of the Kozmodemyansk Museum of Wooden Architecture is one of the typical examples of the Volga smocks. According to various sources on the Internet, it either ground grain earlier in the museum using the wind power, or ground it with the electric motor. Then it periodically lost sails and then had them restored.
On different sites the mill is indicated as operating, but the removed parts of the sails (only decorative grids are left) make us doubt this. Also, in some places it is said that the mill is completely new, and it was only the century-old mill mechanism that was brought from the village of Lapkino.
The mill is mentioned at the end of the story
here
with some pictures from inside the mill.