Short description
Pavlov's windmill from the village of Zaval (Novgorod district, Novgorod region) was built in 1924, is located on a historical site. Smock mill with
automatic sack hoist
, four sails and two pairs of millstones. Shingled Frame. Unique details:
wallower is a conical spur wheel
,
sailcloth
. Was used as a flour mill (flour).
| | |
| --- | --- |
| Condition | The windmill is conserved |
| Status | Museum exhibit |
| Mechanism | Restored, but not used |
Additional description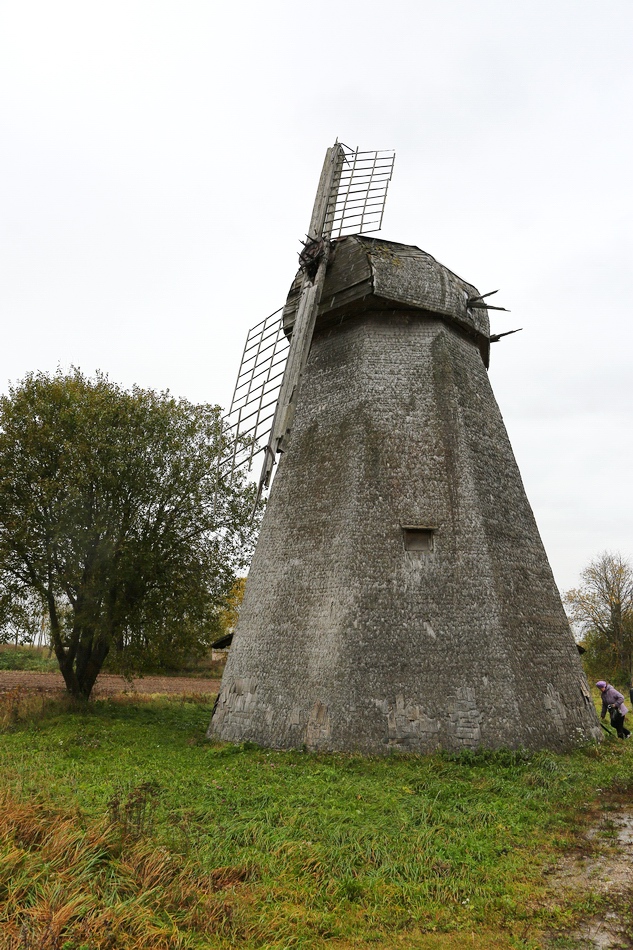 The mill in the village of Zaval is all unique.
Firstly, the mill has absolutely completely preserved the mechanism, probably it has been renewed somewhere, but there are enough details to start the mill. Think about it, there is even a latch on the end of the mealspout.
Secondly, the mill is one of the few smocks with an automatic sack hoist. This is how it works: there is a flat smooth wheel on a vertical shaft which is touched by another wheel in a perpendicular plane. The second wheel rolls the sack rope and the sack is being pulled up through the self-opening flaps. When the sack is pulled up, the perpendicular wheel is lifted (the shaft is movable) and the connection to the vertical shaft disappears.
Thirdly, there is a unique connection of the vertical shaft with the windshaft: wallower is a conical spur wheel. It is conical, because the windshaft has a tangible inclination.
Fourthly, the millstone system is unique: the hopper does not hang on the crane or on the sticks, but stands on a special construction over the millstones. Massive stonecrane with a "holder" is near too. By the way, this is the only millstones "holder" we have seen. It is unclear whether they were cut off and sold as metal or never existed because ropes were originally used there.
Fifthly, this is one of the three shingled mills in Russia.
Sixthly, the cap of the mill is of atypical round shape.
Seventy, it is the only windmill where sailcloth was found. We don't know any other historical sailcloth in Russia.
Most of these points make it possible to refer this mill to the northern smocks, which are more technically advanced, and are more like Estonian windmills for example,
here
. A large number of metal details can be dated 1924, such as part of the windshaft, threaded adjustment of the quality of grinding instead of wedges.
Now the mill has one pair of millstones, but there is one spurwheel in the museum too. It can be argued that (possibly) the mill still had two pairs of millstones. Its nearest "relative" is the mill from the village of
Ladoshchino
in the museum of Vitoslavlitsi.
The mill is conserved, the floors in some places are changed, the base is strengthened. It's great that there is a museum in the mill. We wish this mill could be functionally recovered soon. It deserves it.
By the way, the name of the village Zaval comes from its location, behind fortifications ("val") along the river Veryazha up from lake Ilmen.