Short description
Shaposhnikov's windmill from the village of Menyaylovo (Alekseevsky district, Belgorod region) was built in 1870, was transported to the village of Menyaylovo (Alekseevsky district, Belgorod region) in 1975. Postbased mill with six sails and one pair of millstones. Log construction. Was used as a flour mill (flour).
| | |
| --- | --- |
| Condition | The windmill is conserved |
| Status | In noone's possession, not used |
| Mechanism | Conserved, not restored |
The following historical parts of the mechanism have been preserved:
Sails, Windshaft, Brake wheel, Tailpole.

Additional description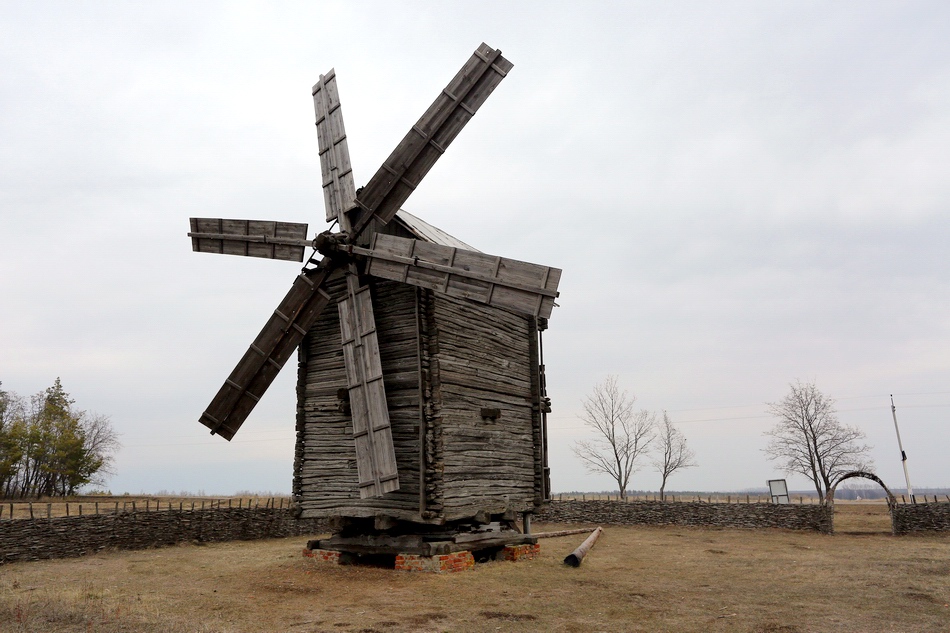 The mill in Menyaylovo is one of the 11 preserved noninverted post-based mills. In 1975 the mill was restored, since then it is in good condition, but in fact belongs to no one and is not particularly used by anyone. As for the date of construction, the owner and even the location, there are many options on the Internet. We stick to this excellent report
here
. The report says that the mill was built in Menyaylovo, then transported to Tarakanovo, and then brought back in 1975. Whether the mill was put on its historical site is unknown.
The restoration of the mill was not exactly correct from the historical point of view, but it was effective. Instead of the wooden post in the center of the mill there is a metal pipe, the floor downstairs is covered by plywood, and the base is made of brick. There isn't much left of the mechanism though. To the right of the "toothless" brake wheel supposedly was the location of the stonecrane. There is a pair of millstones without any details, a windshaft, the sails. And this is it. Judging by the size and the height of the mill's barn, it could have easily contained a crushing system, but there are no particular signs of it.
In the exterior of the mill you can clearly see two floors with laced rails. This architecture reminds of a new mill from the village of
Yakovlevo
, Belgorod region. The tailpole, made up of a fork-shaped logs, attached to the very bottom of the barn, is lying on the ground near the mill.
In addition to the report above, you can read about the mill
here
and
here
.
Another short report about the excursion of schoolchildren to the mill is
here
. At the end of the report, there is an appeal to share any information about the mill from the village of Menyaylovo. Who knows, maybe sooner or later there will appear a museum here that tourists will visit. There are several mills with such experience already.