Short description
Stepanov's windmill from the village of Shorkino (Cheboksary district, Republic of Chuvashia) was built around 1905-1911, is located on a historical site. Smock mill with four sails and two pairs of millstones. Log construction. Unique details:
one of two windmills located on a historical site
. Was used as a flour mill (flour).
| | |
| --- | --- |
| Condition | The windmill is conserved |
| Status | In noone's possession, not used |
| Mechanism | Conserved, not restored |
Information about the mill was checked on 01.03.2019.
The following historical parts of the mechanism have been preserved:
Windshaft, Brake wheel, Brake, Stonecrane, Upright shaft, Wallower, Great spur wheel.

Millstone mechanism:
Stone nut, Spindle, Hopper, Shoe, Shaker, Vat.

Additional description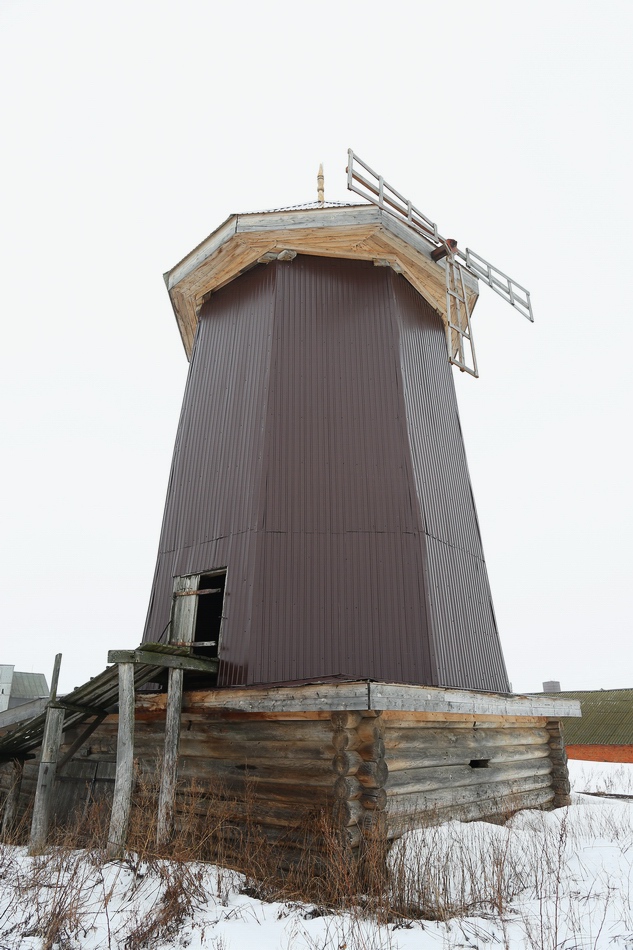 Guys! The village of Shorkino is the ONLY village in Russia with TWO preserved smocks. You won't see two smocks on historical sites ANYWHERE else. (The village with two
historical
post-based
mills
on the histrorical site is Pogorelets, Arkhangelsk region). That's it. These are the only two villages in Russia with two historical mills together, they cannot be found anywhere else!
This mill in the
pair
is luckier: it was sheathed with corrugated iron and now the mechanism is dry. Hooray! Many thanks to those who did this!
It is Volga region smock. Honestly, we got behind the locked door. The mechanism inside is very well preserved. Everything has been well preserved, look at the pictures. We are not sure, but perhaps this good state of the Shorkin machinery is the best of all Russian mills, and what is most important, all the elements are historical. At least, all the wooden parts of the millstone systems have been completely intact here.
The mill peculiar feature is double hoppers. There are hoppers on the second level, from where the grain falls into the same hoppers on the first floor, from which it goes to the millstones.
As for the owner of the mill and the year it was constructed, there were found three mentions on the Internet:
1) "The windmill was built by an old man Stepanov Veniamin Alexandrovich, and a little later the second mill appeared."
2) "In the 20-s of the XXth century in the village of Shorkino there was a successfully working windmill built in 1905-1911 by Veniamin Alexandrovich Stepanov."
3) "The left one was made by Stepanov Alexander Stepanovich, and the one to the right - by his father, besides, the left mill was better preserved, and the right mill was built in 1926-1930."
Obviously there exists some confusion, but we have decided that this mill is younger.
The windmill is on the field, that's why on the internet it is sometimes located in Syatraksy and Syatra-Khuchematy villages.
Both windmills are bought by individual entrepreneur who probably did conservation works for this one. Let's hope both will be eventually restored to operating state.