Short description
Wodynini's windmill from the village of Pogorelets (Mezen district, Arhangelsk region) was built around the end of the 19th century, is located on a historical site. Inverted postbased mill with four sails and one pair of millstones. Log construction. Unique details:
one of two windmills located on the same historical site
. Was used as a flour mill (flour).
| | |
| --- | --- |
| Condition | The windmill is conserved |
| Status | In noone's possession, not used |
| Mechanism | Conserved, not restored |
The following historical parts of the mechanism have been preserved:
Windshaft, Brake wheel, Tailpole.

Millstone mechanism:
Stone nut, Spindle, Hopper, Shoe, Vat.

Additional description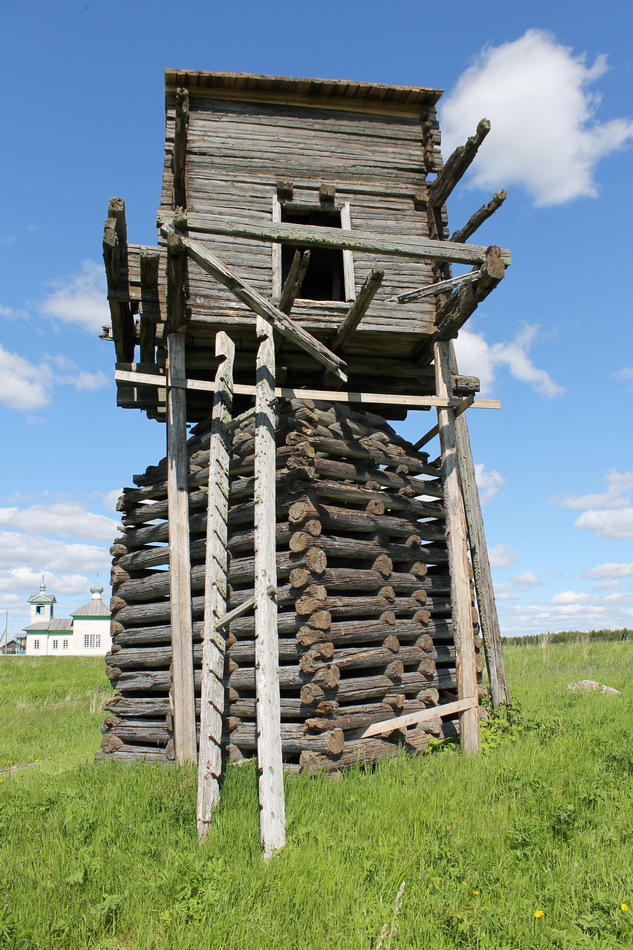 The mills in Pogorelets are the only two historical post-based mills standing together on their historical sites. (Two historical smocks are located in
Shorkino
, Chuvashia). Both mills have been conserved by the Archangelsk
team
, but they still need restoration.
The mechanism of this mill is much better than the one in the
second
mill of Pogorelets, but the mill itself is in a very poor condition. One of the corners of the trestle has almost completely rotted. The mill has been fortified by four pillars, however, it's hard to say how long it will remain in this condition.
It is interesting that before the heavy storm of 1988, there was a third mill next to these two – Gudaev's mill. At the site of its construction there was discovered a stone, that was used as a front bearing under the windshaft. Now it is used in another mill in the village of Kimzha.
Both mills are part of the complex of five mills of the Mezen river and both stand on the hill above its calm slow waters.